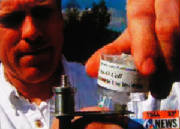 Inspector Paul is truly a Mold Expert. Inspector Paul averages 100 mold investigations each year. Inspector Paul is an American IAQ Council - Council Certified Indoor Environmentalist #2080, ESA Level 200 & 300 Certified Mold Inspector, EEF registered mold inspector, and an Anabec Certified Mold Remediation Applicator. Inspector Paul has performed mold investigations in residences, schools, churches, airports, and industrial buildings. Inspector Paul has successfully lead mold remediation projects from numerous homes, schools, churches, industrial facilities, and an Airport.
Inspector Paul carefully follows mold inspection and sampling protocols that meet or exceed the standards established by: The United States Environmental Solutions Association, The New York City Department of Health, and The American Conference of Governmental Industrial Hygienists.
Inspector Paul follows strict sampling guidelines, utilizes legal chain of custody paperwork, and sends all of our mold samples to AIHA accredited laboratories for testing and analysis by a PhD.
Inspector Paul interviews with Channel 6 News Investigator Jeff Sonier about mold and sick building syndrome - read the story and watch the newscast.
Paul King dba Inspector Paul, Charlotte, NC is awarded the prestigious "Registered Mold Inspector" distinction from the Environmental Education Foundation.
click here to view a non viable mold report
click here to view a viable mold report
click here to view a viable bacteria report
how to interpret laboratory results for airborne fungal (mold) samples

"You did an outstanding Job on this report. You are very organized and very effective, and your final product is superior to others that I have seen." - Rick Prudnick-Waxhaw, NC

"Thanks for helping our family through an incredibly difficult situation? - A. Gonzalez.

Mold is a microscopic organism found virtually everywhere indoors and outdoors. Mold can be found on food, plants, and other organic material. Mold can also be found on cardboard, paper, ceiling tile, sheetrock, carpet, carpet padding, wood, plaster, and air conditioning dusts.

The following are some sources of indoor moisture that may cause mold problems in your home or workplace:

Flooding

Leaky Roofs

Humidifiers

Damp Basements or Crawl Spaces

Plumbing Leaks

House Plants

Steam from showers, baths, and cooking

Clothes dryers vented indoors

Mold spores are easily detached and made airborne. When moldy materials become damaged or disturbed, spores (reproductive bodies similar to plant seeds) can be released into the air.

People at high risk for adverse reactions to mold exposure are:

Infants

Children

Elderly

Immune Compromised Individuals

Pregnant Women

Individuals with Existing Respiratory Conditions

Mold can cause a wide range of health problems including:

Wheezing

Nasal & Sinus Congestion

Watery & Red Eyes

Nose & throat Irritation

Skin Irritation

Aches & Pains

Fevers

Asthma

Emphysema

Black Mold or Stachybotrys chartarum (atra) aka: Toxic Mold

Stachybotrys chartarum (atra) is a greenish-black toxic mold that colonizes particularly well in high cellulose material such as straw, hay, wet leaves, dry wall, carpet, wallpaper, fiber-board, ceiling tiles, thermal insulation, etc. It does not grow on plastic, vinyl, concrete, or ceramic tiles. It is not the green mold on bread or the black mold on the shower tiles.

There are about 15 species of Stachybotrys or Black Mold known throughout the world. This toxic mold grows in areas where the relative humidity is above 55%. Before drying Black Mold (aka: Stachybotrys) is wet and slimy to the touch.

Stachybotrys or Black Mold produces a mycotoxin that causes human mycotoxicosis. This type of mold is though to be a possible cause of the "Sick Building Syndrome".

The following is a list of symptoms associated with exposure to Stachybotrys or Black Mold spores:

Pulmonary hemosiderosis (bleeding in the lungs)

Respiratory problems

Nasal & sinus congestion

Eye Problems

Dry, hacking cough

Sore throat

Chronic fatigue

Skin Irritations

Central Nervous Systems Problems (constant headaches, memory problems, mood changes)

Aches & pains

Fever

Diarrhea

Immune suppression

CIE #02080


American IAQ Council-Certified Indoor Environmentalist



ESA level 200 Mold Certification



ESA Level 300 Mold Certification

Environmental Education Foundation


EEF-Registered Mold Inspector

Below is a quote from a client and a sad example of what mold can do to people.

"Paul,

As we were moving out, we found more mold in another area of the house. Just FYI pictures of the new mold we found and the "stuff" cleaned off my air purifier. My oldest daughter is much better since the move, my son stopped getting worse but he still has issues, my youngest daughter had to have her tonsils taken out and I had two sinus infections back to back as we were moving out. I did most of the work as I wouldn't let anyone go back into the house or with good conscience, get some of my son's friends to help. I hadn't had a sinus infection in 5 years. Hopefully the worst is over..." Hal H.-Charlotte



Relative Hiuidity Testing



Interior Air Sampling



Swab Sampling Visible Mold



Exterior Air Sampling for a Baseline



Tape Lift Sampling



Certified Mold Inspector

We offer 5 different levels of Mold Inspection Services: Limited Sampling Inspection

Fee $ 395.00 (includes the first 3 samples)

Inspection of up to 3 client defined areas of the dwelling, 2 samples, & lab analysis

Mold Screen Inspection

Fee $ 595.00 (includes the first 3 samples)

Visual assessment of the entire dwelling, identification of any "red flags", client directed sampling of up to 2 "red flags", & lab analysis

Mold Survey InspectionFee $ 1,500.00 minimum (includes up to 10 samples)

Detection of the presence of microbial problems in all readily accessible areas of the property, collection of appropriate data elements to enable remediation specifications to be produced, & lab analysis. Identify, determine cause, and provide corrective measures for all mold sources discovered in the entire house.

Mold Clearance Inspection

Fee $ 600.00 (includes the first 3 samples)

Designed to determine the effectiveness of remediation efforts and to document the absence of microbial problems before renovations begin

Post Cleaning Inspection

Fee $ 600.00 (includes the first 3 samples)

Designed to determine the effectiveness of remediation efforts and whether mold problems still exist in designated area(s). This meets most insurance companies requirements for a post cleaning mold inspection.

Additional Mold Sample Inspection Rates (includes lab fees)

● Swab Sample $ 100.00 each● Air Sample $ 100.00 each● Carpet Sample $ 100.00 each● Bulk Sample $ 100.00 each● Wall Sample $ 100.00 each



Mold Growth on Sheetrock



Air Sampling in a School



Mold growing in a/c duct pipes



Viable Air Sampling for Mold or Bacteria



Mold Inside A HVAC system

Mold, Fungi, and Yeasts-Definitions & Descriptions
click here to download a chart of specific toxic molds
Call: Paul King
704-467-7328 (INSPECT)
1820 Sunnyside Ave. Charlotte, NC 28204
& 201 Tom Hall St. #236 Fort Mill, SC 29715
704-307-2537-Fax
Professional, detailed, thorough home inspections in Charlotte, Pineville, Matthews, Mint Hill, Weddington, Huntersville, Lake Norman, Waxhaw, Monroe, and Marvin, North Carolina as well as Rock Hill, Fort Mill, Tega Cay, Lake Wylie, Indian Land, York, Clover, and Lancaster, South Carolina.