Council Certified Indoor Environmentalist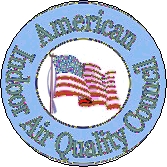 Finding a truly professional Indoor Air Quality Person can be a daunting task. There are no local, state, and federal governmental authorities licensing or regulating Indoor Air Quality Professionals (Mold Inspectors, Radon Testing, Remediators, etc.). Additionally, there are hundreds of organizations "certificating" individuals and companies as mold inspectors, mold remediators, indoor air quality professionals, etc.
Unfortunately, there are several organizations that will certify almost anyone as long as their membership check does not bounce and they can pass a simple multiple choice question exam after being given the answers to the test. Some will even waive the exam if you simply tell them you work in the Indoor Air Quality field.
As a possible consumer in need of an Indoor Air Quality Professional how can you differentiate between the truly knowledgeable the rest?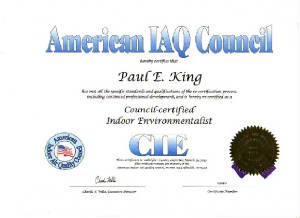 The American Indoor Air Quality Council has worked hard to establish and maintain the finest certifications in the field of indoor air quality.
Because of their commitment to excellence, Council programs now offer the only certifications in the IAQ industry with the following features:
Certification awarded by a nationwide board of industry peers

Psychometrically sound exams based on standard texts rather than weekend classes

Secure electronic exam delivery and instant score reporting

Verification of 8 years documented field experience for top-level certifications

Compliance with ASTM Standard E1929, Assessment of Certification Programs for Environmental Professionals: Assessment Criteria

Compliance with AERA/APA/NMCE Standards for Educational and Psychological Testing (1999)

Third-party accreditation by the Council for Engineering and Scientific Specialty Boards (CESB)

Complete independence from industry associations and all training providers
In a rapidly changing field, the American IAQ Council stands firmly behind its commitments to integrity, credibility and independence.
Paul King is proud to be a Council Certified Indoor Environmentalist.



Call: Paul King
704-467-7328 (INSPECT)
1820 Sunnyside Ave. Charlotte, NC 28204
& 201 Tom Hall St. #236 Fort Mill, SC 29715
704-307-2537-Fax
Professional, detailed, thorough home inspections in Charlotte, Pineville, Matthews, Mint Hill, Weddington, Huntersville, Lake Norman, Waxhaw, Monroe, and Marvin, North Carolina as well as Rock Hill, Fort Mill, Tega Cay, Lake Wylie, Indian Land, York, Clover, and Lancaster, South Carolina.