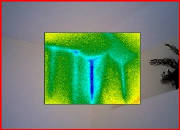 Thermal Image of Roof Leak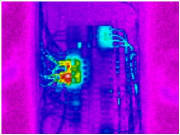 Overheated Electrical Breakers Detected
Charlotte Thermal Infrared Services
Thermal imaging is a forensic technology that allows us to find anomalies that cannot be found during a standard inspection. The anomalies we find are often serious issues such as roof leaks, window leaks, plumbing leaks, overheated electrical and mechanical components, and missing insulation. Below are some side by side photos of the same areas , the left photo is what is seen visually and the right is what was detected with our thermal imaging services. Spending some extra money and adding thermal imaging to your commercial inspection can save you thousands down the road.

Visual inspection of Ceiling



Visual Image of a window



Visual inspection of ceiling



Visual View of Wall Beside Shower



Visual Inspection of Commercial Roof



Thermal imaging is a technology exceeding any state or association standards of practice that allows us to show you things about your home that no one can show you using other inspection methods. The upfront costs of purchasing a Thermal Infrared Camera, attending a lengthy and expensive training class, and the time and revenue lost from work while attending the training are some of the primary factors why only a handful of the country's leading and most professional home inspectors have spent the time and money to provide this valuable service to their clients.

Thermal imaging produces images of invisible heat energy emitted from objects and systems in the home and allows us to measure it. Thermal imaging helps to diagnose the problem rather than merely identify symptoms and can sometimes, but not always, identify and document: Electrical faults before they cause a fire, overloaded and undersized circuits, circuit breakers in need of immediate replacement, missing, damaged, and/or wet insulation, heat loss and air infiltration in walls, ceilings, floors, windows and doors, water and moisture intrusion that could lead to mold, possible pest infestation, hidden roof leaks, before they cause serious damage, air conditioner compressor leaks, under fastening and/or missing framing members, structural defects, broken seals in double pane windows, energy loss and efficiency, dangerous flue leaks, damaged and/or malfunctioning radiant heating systems, unknown plumbing leaks, overheated equipment. These color images can then be included in the inspection report providing supporting documentation to the report. A picture is worth a thousand words.

Snell Group ASNT Level 1 Trained Thermographer





ASNT Level 1 Electrical/Mechanical Thermographer

Thermal image of the same ceiling-no insulation



Thermal image of the same window-leaks in purple



Thermal Imaging finds the roof leak



Thermal Infrared finds non visible leak at shower



Thermal Inspection of Commercial Roof Locates Leak



The 1st floor wall was uninsulated





wall thermal scan



shower pan leak



missing insulation in cathedral ceiling



Moisture Detection Inside A Wall



Roof Leak Above A Bay Window



Missng Insulation In A Commercial Building



Thermal Image of Window Leak
Thermal Imaging is an additional servoce we offer to our home inspection clients or as a single item for commercial and industrial needs. We also provide commercial roof leak detection services, electrical overload detection, storage tank evaluation, and many other services. Please call with ay questions.
Call: Paul King
704-467-7328 (INSPECT)
1820 Sunnyside Ave. Charlotte, NC 28204
& 201 Tom Hall St. #236 Fort Mill, SC 29715
704-307-2537-Fax
Professional, detailed, thorough home inspections in Charlotte, Pineville, Matthews, Mint Hill, Weddington, Huntersville, Lake Norman, Waxhaw, Monroe, and Marvin, North Carolina as well as Rock Hill, Fort Mill, Tega Cay, Lake Wylie, Indian Land, York, Clover, and Lancaster, South Carolina.